While I am not nearly as upset as the rest of the internet at Ed Sheeran's cameo on GOT last night, I was disappointed he wasn't a white walker or at the least killed somehow. I feel like being undead or brutally killed really brings the best out in celebrities, or at least makes it less annoying they are traipsing around my favorite fantasy world where they clearly don't belong.
To get over the non-zombied Ed Sheeran post episode sadness, I decided to look up a bunch of famous people who actually have played Zombies in movies. It's a surprisingly long list, counting cameos and starring roles, as well as one famous Zombie who got a Zombie cameo in another movie (Zombies on Zombies on Zombies!). From some basic late night searching, here's what I could turn up: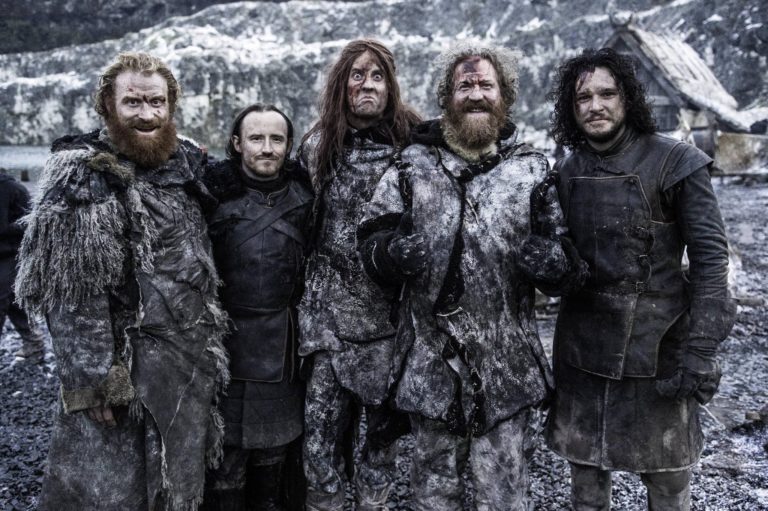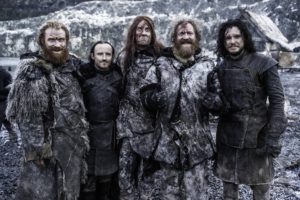 Mastadon – this famous Metal band's members did get to play White Walkers on GOT. And they were damn amazing at it. They also wrote a song for the show, called "White Walker" at the request of Mastadon superfan and Thrones producer D.B. Weiss. You can spot them zombying it up in Season 5, Episode 8 "Hardhome." But here's a picture to tide you over till you can dig up that particular classic GOT reel.
---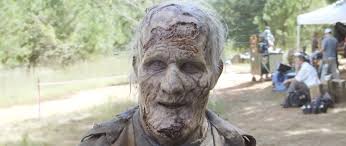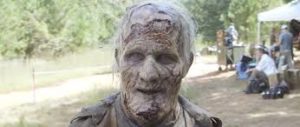 Scott Ian, Anthrax – This famous front man, while only appearing as a Zombie once on the Walking Dead (Season 5, Episode 12) he did actually get all dressed up in Zombie attire twice for the show. The first appearance didn't make it to air, but he got to wrestle with Rick and Carl on the second go around, which did air.
---
Chris Martin, Coldplay – keeping the Zombie band theme going, Chris Martin made a cameo appearance in 'Shaun of the Dead'. You can spot in him in this clip, next to The Winchester.
---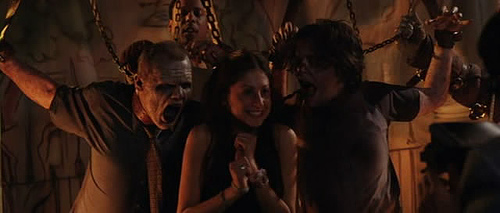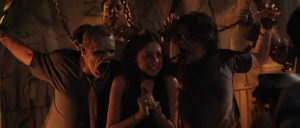 Simon Pegg and Edgar White, Co-Writers "Shaun of the Dead" – writing iconic zombie movies was not enough for these two zombieheads, who also appeared as zombies in "Land of the Dead". Geek out on that Zombie fans!
---
Michael Smiley, Doctor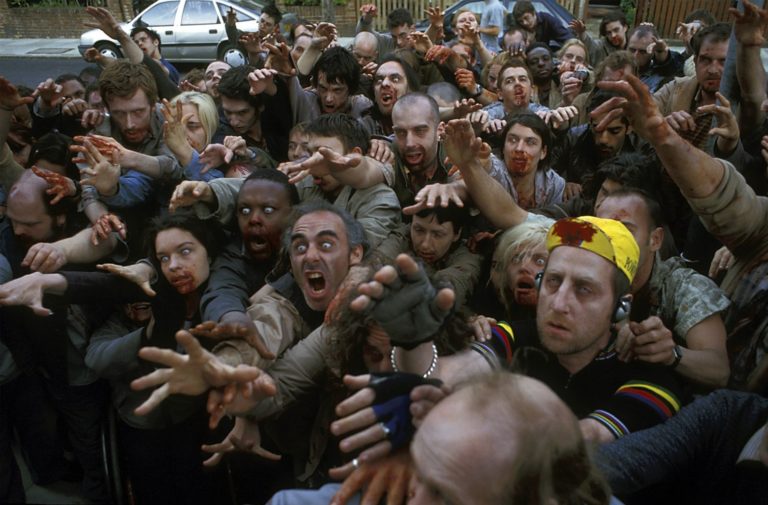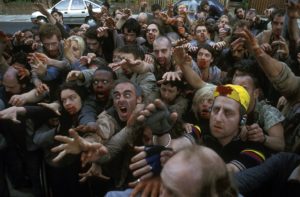 Who & Spaced – Michael Smiley's bike courier club obsessed character from 'Spaced' also makes a cameo (in character) in 'Shaun of the Dead' (yellow hat). Guess his clubbing days are over.
---
Hines Ward, Pittsburgh Steelers – Hines Ward has the pleasure of being nonchalantly killed by Maggie in Season 3, Episode 9 "The Suicide King of 'The Walking Dead.' Not sure his zombie performance outdid his 'Dancing with the Stars' performance, but it's hard to tell since he is eliminated so quickly by Maggie in Badass Mode. Here's an awkward NFL promo video about the appearance, for your added amusement.
---
Johnny Depp's Head – Hollywood recycling can be thanked for this one. For Walking Dead Season 6, Episode 12, "Not Tomorrow Yet" the special effects department borrowed a clay head base of Johnny Depp, and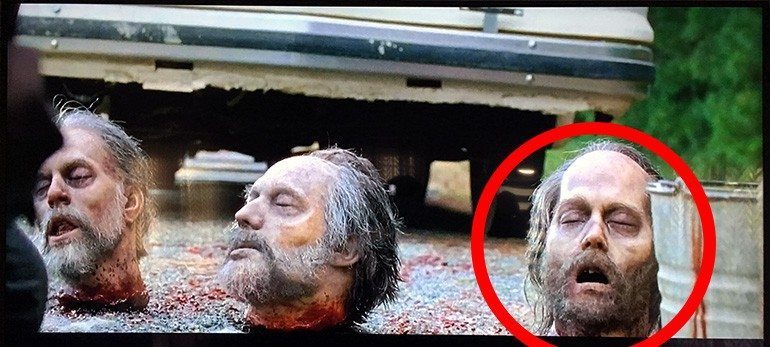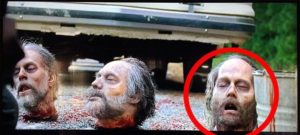 used it to make one of the three decapitated zombie heads in the scene pictured here. Whether it was the rum or the very bad eggs we will never know, but something did poor Johnny in before Rick got there.
---
Conan O'Brien – Fanboy Conan didn't quite make onto the Walking Dead, but he did get to film a pretty funny Walking Dead cold open for his own show. You check out the walking (and talking), comical antics of a zombie Conan here. 
---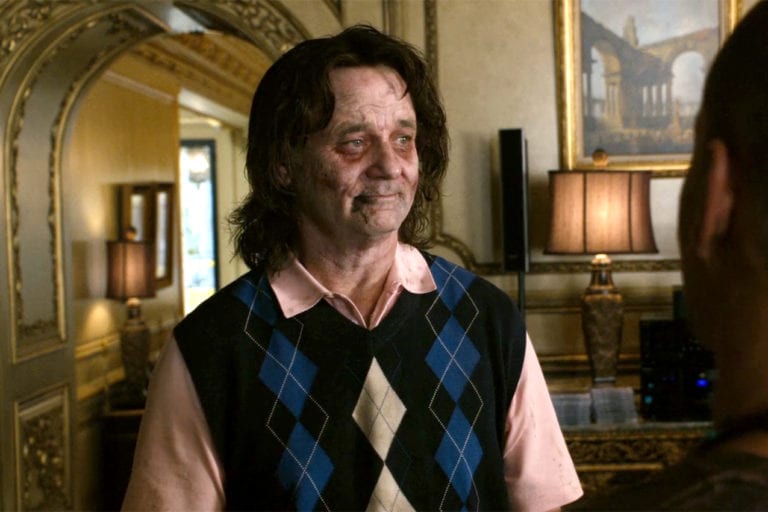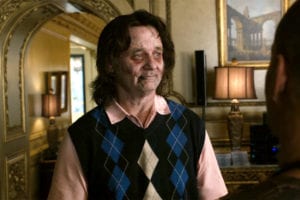 Bill Murray – The irony of Bill Murray's zombie appearance in Zombieland can only be fully appreciated if you actually watch Zombieland. Just suffice it to say, Bill Murray is doing such and excellent job blending in as a zombie that he quickly takes the final leap into full zombiehood. And of course, golfing is discussed.
---
George R. R. Martin, Games of Thrones Author – This true SyFy nerd at heart, author of Games of Thrones, and fan of undead things has played a zombie not once, but twice.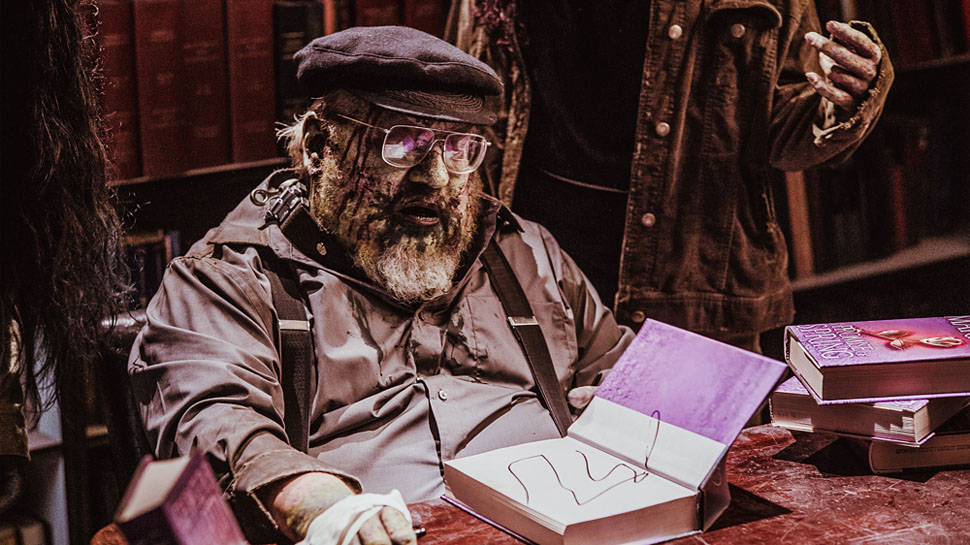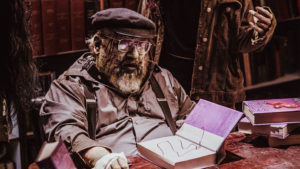 His most recent foray into Zombie acting, was playing a version of himself in Z Nation that was zombiefied leaving Comic-Con and then captured and placed in a small cell, where he continues to sign autographs. He also played Zombie Shakespeare in the Simpsons. 
---
Dr. Tongue and Bub, Day of the  Dead – In the most meta of famous zombie examples I have for you, two famous zombie's from George Romero's "Day of the Dead" have cameos in "The Walking Dead." Dr. Tongue and Bub have both re-appeared in Walking Dead episodes. Greg Nicotero, a make-up artist for the Walking Dead, caught his first break as a make-up artist on "Day of the Dead" as an assistant and likes slipping in homages to that most classic of Zombie flicks.
---
Drew Barrymore – is currently playing a loveable if killer zombie on "The Santa Clarita Diet." See our review of this hilarious show which is more about life and less about Zombie's than you would think.

---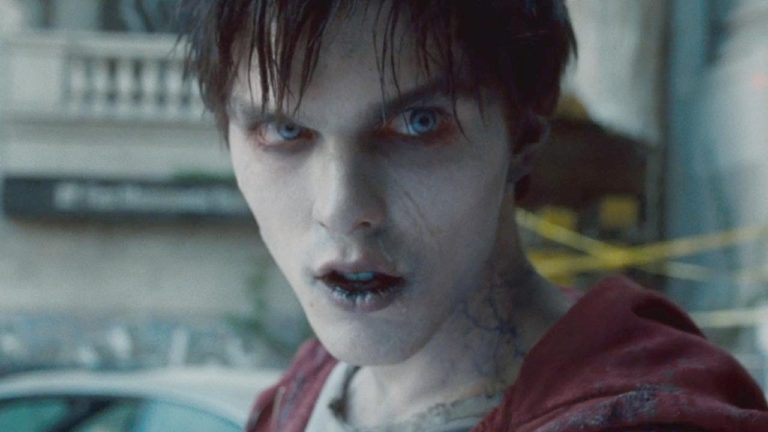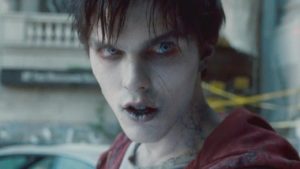 Nicholas Hoult, X-Men and Dating Jennifer Lawrence – They broke up, but don't worry, he's dating a playboy model now and she's dating an old guy. But before all that, Nicholas played a lovable zombie with feelings in "Warm Bodies," a cute coming of age movie set in a post zombie apocalypse world, while love is the cure we all need.
---
Emma Roberts – Blow, Nickelodeon, Scream Queens, etc. – Emma Roberts looks a little less cute than normal in her undead appearance on American Horror Story. A resurrection a little more gruesome than Jon Snow's, but no less entertaining.
---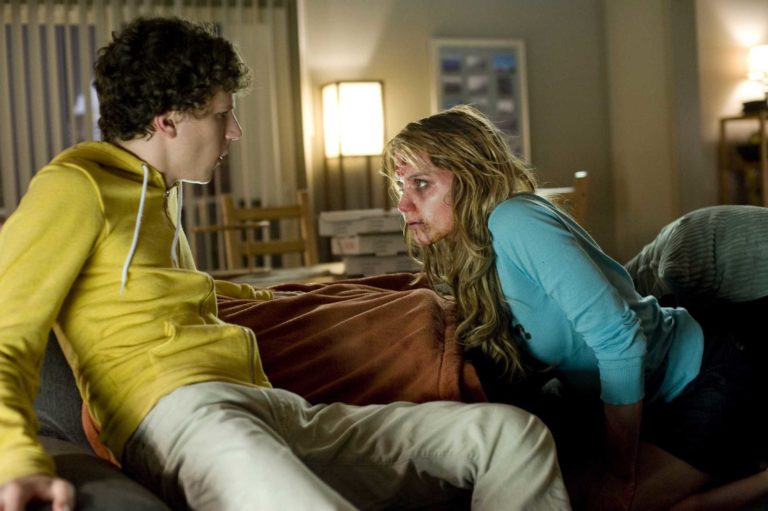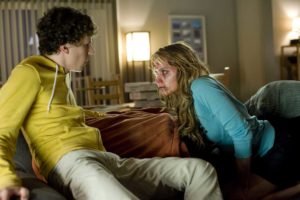 Amber Heard, Drive Angry, Magic Mike XXL, etc. That cute girl who finally ended up in Mark Zuckerberg's (Jesse Eisenburg's) apartment, and then woke up and tried to eat him? That was Amber Heard, Johnny Depp's ex, and Magic Mike's sort-of love interest in Magic Mike XXL. Maybe that's why her marriage to Depp fell apart; it's hard to two zombies to find love and stay together in this world.
---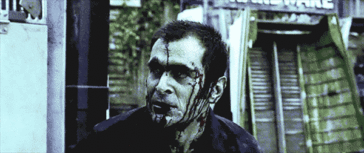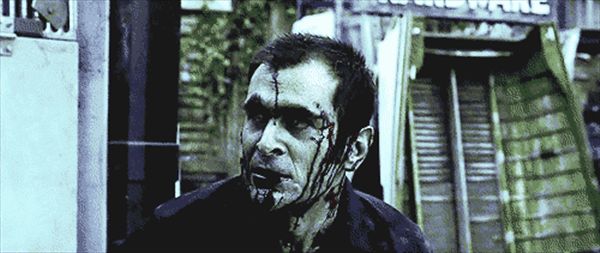 Ty Burrell, A.K.A. Phil Dunphy (Modern Family)- By far my favorite find of the night. PHIL DUNPHY PLAYED A ZOMBIE Y'ALL! Ty Burrell was in the 2004 remake of Dawn of the Dead, just being his zombie self. So much more feral than his currently roll on Modern Family. Sometimes those you least expect surprise you the most!
---
Evan Peters, American Horror Story – Evan Peters has played a variety of dead characters on American Horror story, including an undead character "Kyle" in the Coven Season. And then there's this scary music video to "Pumped up Kicks" starring him in zombie makeup.
---
Jenna Jameson, Adult Film Star – Just as you were expecting, she starred in "Zombie Strippers." Here's a promo video (from the New York Times, it's okay to click) of her talking about how her experience pole dancing in real life helped her film this movie. I'm not kidding.

---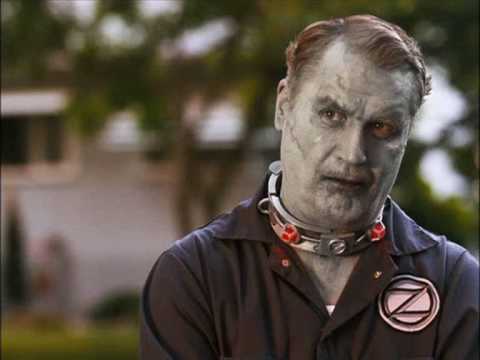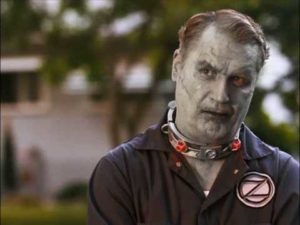 Bill Connolly, Brave & The Boondock Saints – and also Pocahontas and the Last Samurai and a bunch of other movies you have heard of. You should really check out his IMDB page. Anyway, one time he played a zombie in a movie called 'Fido'.
---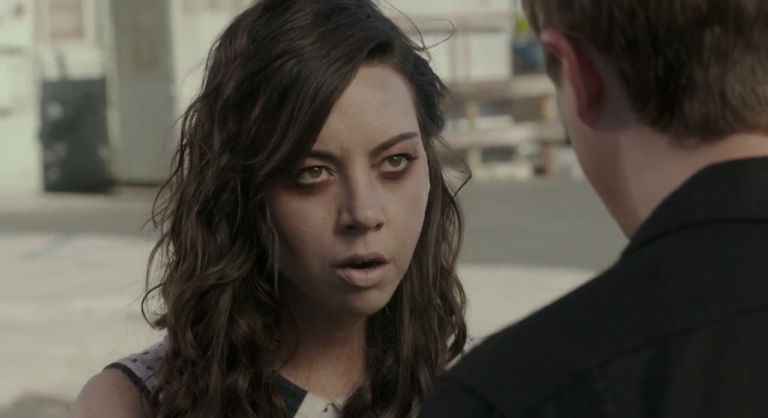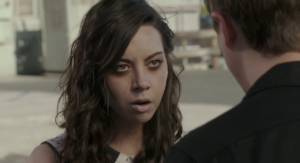 Aubrey Plaza, Parks and Recreation – Someone who I totally would expect to play a zombie, Aubrey Plaza deadpanned her way through a movie called "Life After Beth" playing a, you guessed it, zombie. It's this face that comes to my mind most often when I think of her, in any roll. But mostly directed at Leslie Knope.
---
Rob Corddry, Comedian – He was in Warm Bodies, with Nicholas Hoult. And he made a video of zombie acting tips, in case you were looking for those.
---
Bruce Willis – this one was super hard to confirm, but I think Bruce Willis was briefly a zombie in Planet Terror. I am not watching the movie to find out, and I couldn't get a straight answer from all the men in my life who have watched it (I think they were impaired when they saw it.)
---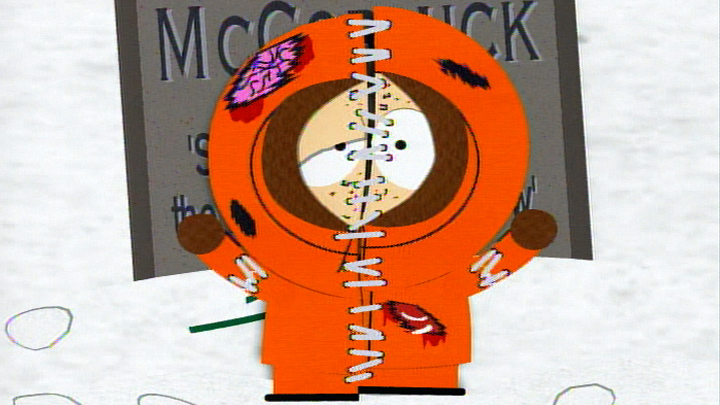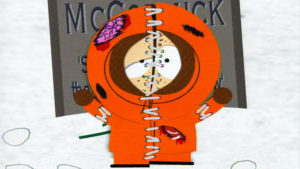 Kenny, South Park – Besides being a perpetual zombie (he dies and then magically comes back) he did play an actual zombie version of himself. This one is also meta if you think about it.
---
Madge Bellamy – Haven't heard of Madge? That's cause you're not old or into classic Zombie movies. Madge was a hot young thing once, and she starred in "White Zombie", made in 1932. Depression era Zombie babe
---
Javier Bardem and most of the rest of the Cast of Pirates of the Caribbean, Dead Men Tell No Tales. Is this franchise dead yet?
---
And that pretty much wraps it up. Did I miss any famous zombies you know of? Still stuck on the Ed Sheeran thing? Awake over there? Okay, well. that's it for me. Stay vigilant zombie friends!