It's not easy being the parents of a reckless teenage girl, running your own real estate business, and finding time to kill drug dealers so your wife doesn't eat the neighbors.
Zombies have now crossed into sitcom, having started at horror and moved through murder mystery, teenage romance, addicting dramatics on AMC, action movies starring Brad Pitt, comedies, and let us not forget, coming-of-age Twinkie quest romantic comedies.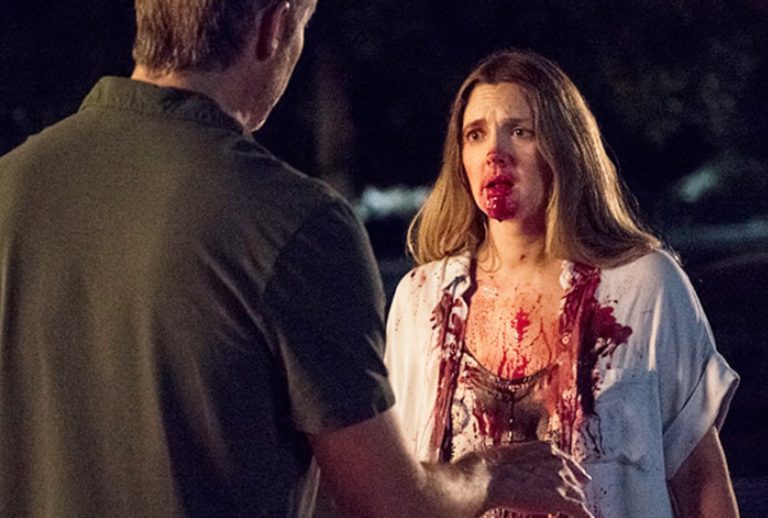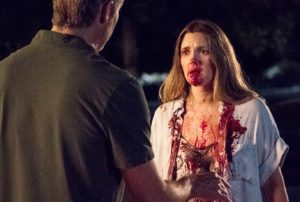 Who knew zombies could be so relatable? While Drew Barrymore & Tim Oliphant (of Justified) wouldn't be the first people who come to mind as potential leads on a zombie show, her warm nature and his surprisingly goofy portrayal actually work really well.  It's easy to imagine yourself in their shoes, trying to do your best to keep life relatively normal, juggle work and killing bad people; but making a mess of it and feeling like your screwing up your kids in the process.
One of the best elements of Santa Clarita Diet (SCD) is the shows tendency to take the relationship clichés we've all been told and apply them to a ridiculous situation (zombie mom) in a way that highlights what makes marriage so hard in the long run. My catholic marriage counseling class did an excellent job of reinforcing tropes like "your relationship with each other should always come first," and "make sure you always support each other in whatever endeavors each of you might take on in life."
It certainly strikes a chord when Joel says to Shelia "I can't let you do this alone" while referencing MURDERING and EATING PEOPLE. Or when they have a bedtime talk earlier in the season, that runs along the lines of "We have to kill people. We don't have a choice. But we are going to do it together." Or when they make a pact with their teenage daughter to always be honest with each other and to have family dinner; which turns into Shelia having to admit she's eating chunks of people at those family dinners.
While hopefully no one will be faced with having an actual zombie for a spouse, the show does an excellent job of showing how ridiculous basic marriage advice sounds in the face of trying circumstances. Should you full-heartedly support someone who commits a serious crime or makes decisions that endanger your children? Or who cheats on you (or eats another guy's balls for a snack)? We probably don't really know until we are in the situation, but if you ever in that situation, the basic magazine advice on marriage isn't going to seem helpful. And it probably is better if you don't tell your teenage kids absolutely everything, right?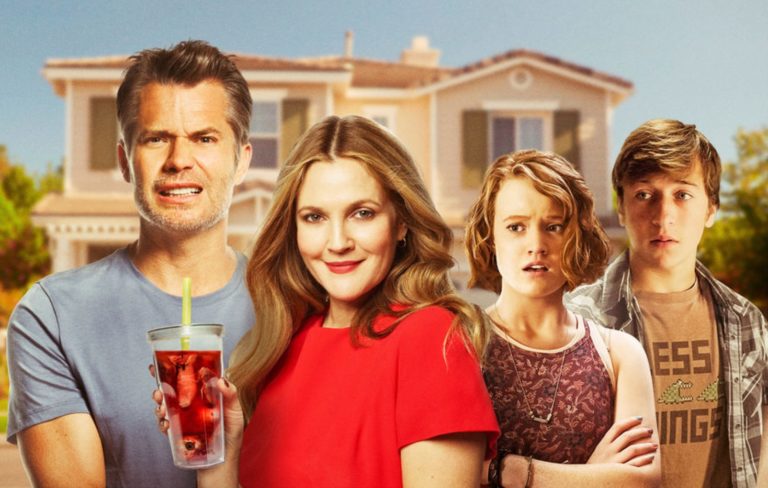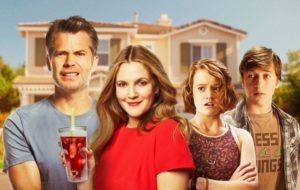 The show also does an excellent job dealing with female body image and awkward teenage love. From ironic lines like "At least it's not a disease that dries out your skin," quipped by Drew Barrymore referring to a disease that literally killed her, to tortured scenes where poor Eric is pushed way beyond his comfort zone because of his intense crush on Abby, the SCD once again proves adept at showing us how ridiculous we really are.
And, I'm not going to lie, only needing to sleep four hours a night and losing 20 pounds sounds pretty amazing and something I might consider becoming a zombie for, for like 20 seconds. All the things I could get done! How fabulous I would look!  How many people have gone on ridiculous diets trying to achieve the same thing (*cough Paleo)? I could do high-protein, right?
I will admit that it seems like I like the show slightly better than my husband. I still think it has broad appeal, especially for people in long-term relationships or marriages. We've been watching it as a quick before bed comedy (not suggested while you're eating). If you like modern family, Dexter or the walking dead, give it a try. I never thought I would get sucked in so fast to a zombie sitcom, but so far it's been one of my favorite shows of the year.