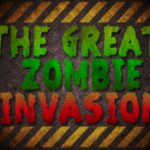 The great zombie invasion bar crawl continues to spread throughout America with an upcoming stop in Wilmington, NC this weekend.  The event promises great zombie drink specials, kick ass music, commemorative zombie cups and best of all, the company of hundreds of zombies dressed to the hilt!
You can read more about the event from the local news station WECT 6, or go straight to the events site at The Great Zombie Invasion Bar Crawl.
The Wilmington event will also be donating 10 percent of the proceeds to benefits Hurricane Matthew relief efforts.  Who says zombies never give anything back!